The human body contains approximately 25g magnesium with about 40% found in the intracellular space and 60% present in bones and teeth. The mineral plays an important role in assisting more than 300 enzymes to carry out various chemical reactions in the body.
Magnesium deficiency in healthy individuals on a balanced diet is quite rare, however, requirements may change over the course of life. There are various physiological conditions, particularly in women, that may increase magnesium requirements. Its use in women, both in terms of prevention and treatment, is extended to many health issues from PCOS to pre-menstrual syndrome, menopause, and more.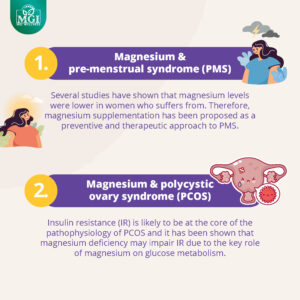 Magnesium and pre-menstrual syndrome (PMS)
PMS is a group of symptoms including bloating, mood swings, breast pain, food cravings, water retention, and painful cramps that most women experience about 1 week before or at the beginning of their monthly period. For some women, PMS may just be a little discomfort, and for others torture. Several studies have shown that magnesium levels were lower in women who suffer from PMS. Therefore, magnesium supplementation has been proposed as a preventive and therapeutic approach to PMS.
Magnesium and polycystic ovary syndrome (PCOS)
PCOS is an endocrine disorder that significantly affects fertility and increases the risk of developing metabolic syndrome, diabetes, and cardiovascular diseases. Insulin resistance (IR) is likely to be at the core of the pathophysiology of PCOS and it has been shown that magnesium deficiency may impair IR due to the key role of magnesium on glucose metabolism. Magnesium helps in glucose and insulin regulation to help glucose enter cells where it is used for energy. Sufficient levels of magnesium can therefore improve insulin resistance and reduce the risk of developing type 2 diabetes.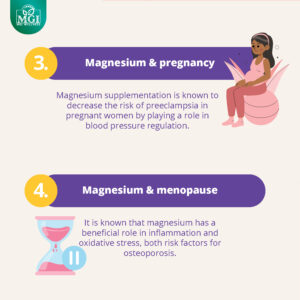 Magnesium and pregnancy
Preeclampsia is a condition when pregnant women have high blood pressure, protein in their urine, and swelling in their legs, feet, and hands which usually happens late in pregnancy, though it can come earlier or just after delivery. It is one of the most common causes of maternal and fetal morbidity and mortality. Magnesium supplementation is known to decrease the risk of preeclampsia in pregnant women by playing a role in blood pressure regulation.
Magnesium and menopause
Post-menopausal women are susceptible to osteoporosis due to its hormonal changes. As mentioned earlier, most of the body's magnesium is stored in bone and plays an important role in preventing osteoporosis. It is also known that magnesium has a beneficial role in inflammation and oxidative stress, both risk factors for osteoporosis. Therefore, it is reasonable to assume the protective effect of magnesium on possible osteoporotic fractures. Magnesium may also reduce unwanted side effects of menopause, such as difficulty sleeping and depression while supporting heart health.
Magnesium requirement for women of different age groups and different stages of life:
During pregnancy: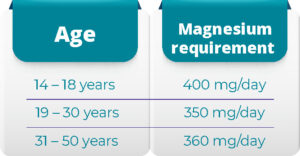 Magnesium is naturally present in a variety of plant and animal foods. Green leafy vegetables, such as spinach, legumes, nuts, seeds, and whole grains, are some good examples of magnesium food sources.
The magnesium content in some food sources is as shown below: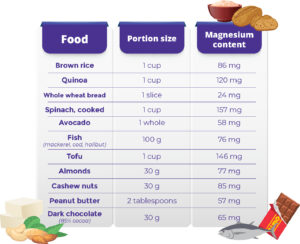 However, if you can't get enough magnesium through your diet and there is no contraindication for you to consume it, you may want to take a magnesium supplement to maintain a healthy level of magnesium in the body.
References:
Volpe SL. Magnesium. In: Erdman JW, Macdonald IA, Zeisel SH, eds. Present Knowledge in Nutrition. 10th ed. Ames, Iowa; John Wiley & Sons, 2012:459-74.
Gröber U, Schmidt J, Kisters K. Magnesium in prevention and therapy. Nutrients. 2015 Sep;7(9):8199-226.
Porri D, Biesalski HK, Limitone A, Bertuzzo L, Cena H. Effect of magnesium supplementation on women's health and well-being. NFS Journal. 2021 Jun 1; 23:30-6.
Khajehei M, Abdali K, Parsanezhad ME, Tabatabaee HR. Effect of treatment with dydrogesterone or calcium plus vitamin D on the severity of the premenstrual syndrome. International journal of gynecology & Obstetrics. 2009 May 1;105(2):158-61.
Couto Alves A, Valcarcel B, Mäkinen VP, Morin-Papunen L, Sebert S, Kangas AJ, Soininen P, Das S, De Iorio M, Coin L, Ala-Korpela M. Metabolic profiling of polycystic ovary syndrome reveals interactions with abdominal obesity. International Journal of Obesity. 2017 Sep;41(9):1331-40.
Douglas CC, Gower BA, Darnell BE, Ovalle F, Oster RA, Azziz R. Role of diet in the treatment of polycystic ovary syndrome. Fertility and sterility. 2006 Mar 1;85(3):679-88.
Castiglioni, A. Cazzaniga, W. Albisetti, J.A. Maier, Magnesium and osteoporosis: current state of knowledge and future research directions, Nutrients 5 (8) (2013) 3022–3033.
Hasan Aydin, O˘guzhan Deyneli, Dilek Yavuz, Hülya G¨ozü, Nilgün Mutlu, Is¸ik Kaygusuz, Sema Akalin, Short-term oral magnesium supplementation suppresses bone turnover in postmenopausal osteoporotic women, Biol. Trace Elem. Res. 133 (2) (2010) 136–143.