If you notice some strands of hair falling after you comb your hair or clumps of it on the shower drain, do not panic; hair fall is normal as long as it is not in excessive amounts.
So what is considered as normal hair fall? According to the American Academy of Dermatology (AAD), it is normal to lose around 50 to 100 strands of hair daily. Therefore, having some hair fall while washing or combing your hair is not a cause for concern.
Causes of hair loss
Some people with certain conditions or are facing stressful situations may experience more hair fall than usual. Reasons of hair loss can include:
Old age
Genetics
Childbirth
Having or recovering from illness such as flu or dengue fever
Undergoing cancer treatment
Malnutrition or nutrient deficiency such as protein and iron
Prolonged stress due to work or study, loss of a loved one or any stressful situations
Frequent hairstyling, especially hairstyles that pull on the scalp such as ponytails
Chemical treatments such as hair bleaching, dyeing, perming, or straightening.
How to reduce hair fall and keep your hair healthy
Vary your food choices in your meals and eat plenty of fruits and vegetables
Include protein-rich foods such as eggs, tofu, chickpeas, and lean meats into your diet
Choose gentler hair styles that do not pull tightly on the scalp
Limit the use of hair dryer and curling iron
Reduce chemical treatments to the hair such as dyeing, perming or straightening
Take nutritional supplements with silica, keratin, biotin and other nutrients for optimal hair health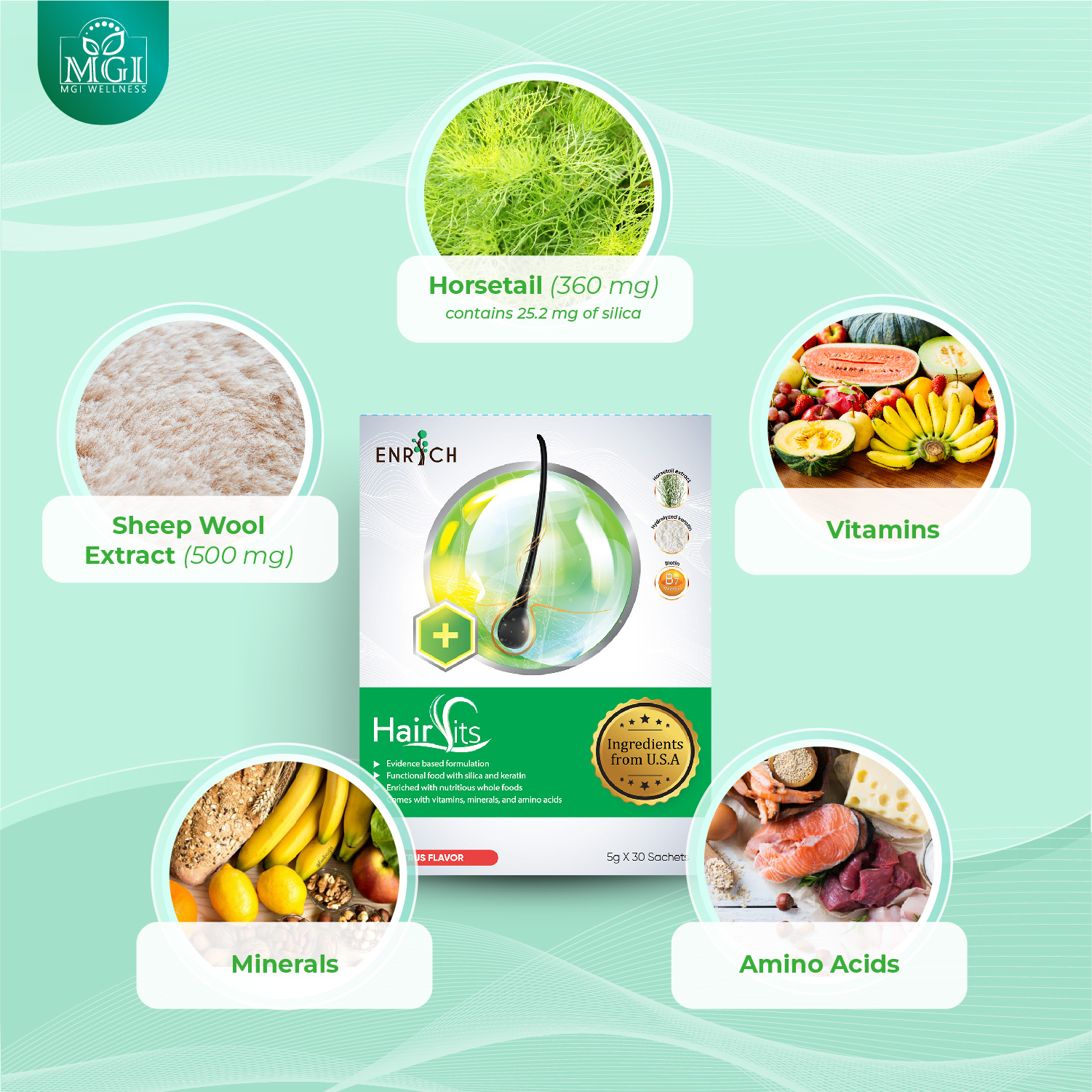 References:
Hair loss resource center [Internet]. American Academy of Dermatology. [cited 2023Mar14]. Available from: https://www.aad.org/public/diseases/hair-loss
Walter K. Common causes of hair loss. JAMA. 2022;328(7):686.
Gowda D, Premalatha V, Imtiyaz D. Prevalence of Nutritional Deficiencies in Hair Loss among Indian Participants: Results of a Cross-sectional Study. Int J Trichology. 2017 Jul-Sep; 9(3): 101–104.
Kareem J, Yser H, Abou Turrab M, Makki U. EFFECT OF MALNUTRITION, HORMONES DISTURBANCE AND MALONDIALDEHYDE ON HAIR LOSS IN WOMEN : PATIENTS AT ALSADER EDUCATIONAL HOSPITAL, BASRAH GOVERNORATE, IRAQ – A CASE STUDY. Biochem Cell Arch. 2020Aug27