What is vitamin C and what does it do
Vitamin C, also known as ascorbic acid is a water-soluble vitamin essential to the body. (1) It is an antioxidant commonly known to strengthen the immune system and may reduce the risk of infections. (2,3) Besides that, vitamin C also helps in collagen formation, wound healing, and improves iron absorption. (1)
Vitamin C and immune health
Vitamin C plays an important role in promoting a healthy immune system through supporting the production of white blood cells and antibodies. (4) Low levels of vitamin C can increase your risk of catching colds and you may take a longer time to recover as well.
Studies have shown that daily vitamin C supplementation is associated with a decrease of common cold incidences (3) and reduction of duration and severity of common cold symptoms. (5)
What affects vitamin C levels in the body
Smokers tend to have lower vitamin C levels as the chemicals in the cigarette take up vitamin C in the body. (6) This is because vitamin C is an antioxidant which reduces inflammation by protecting the body against damage from the chemicals of the cigarette. Besides smoking, drinking alcohol also depletes vitamin C in the body. (7)
Individuals with certain health and medical conditions such as diabetes (6), heart disease (6), stroke (6), and chronic kidney disease (8) also tend to have lower vitamin C status. Vitamin C levels also decrease during infections such as Covid-19 virus infection. (9) These conditions cause inflammation in the body and thus, depletes vitamin C levels in the body.
How to choose the best vitamin C supplement
When it comes to choosing the best vitamin C supplements, it is better to select those with the following features:
Vitamin C from natural sources instead of synthetic
Comes with bioflavonoids and other antioxidants or nutrients
Vitamin C that is slowly delivered and sustainable for longer periods as the body cannot absorbed high doses at one go.
From reputable companies emphasizing on evidenced-based, clinically proven formulas, and uses safe ingredients from trusted suppliers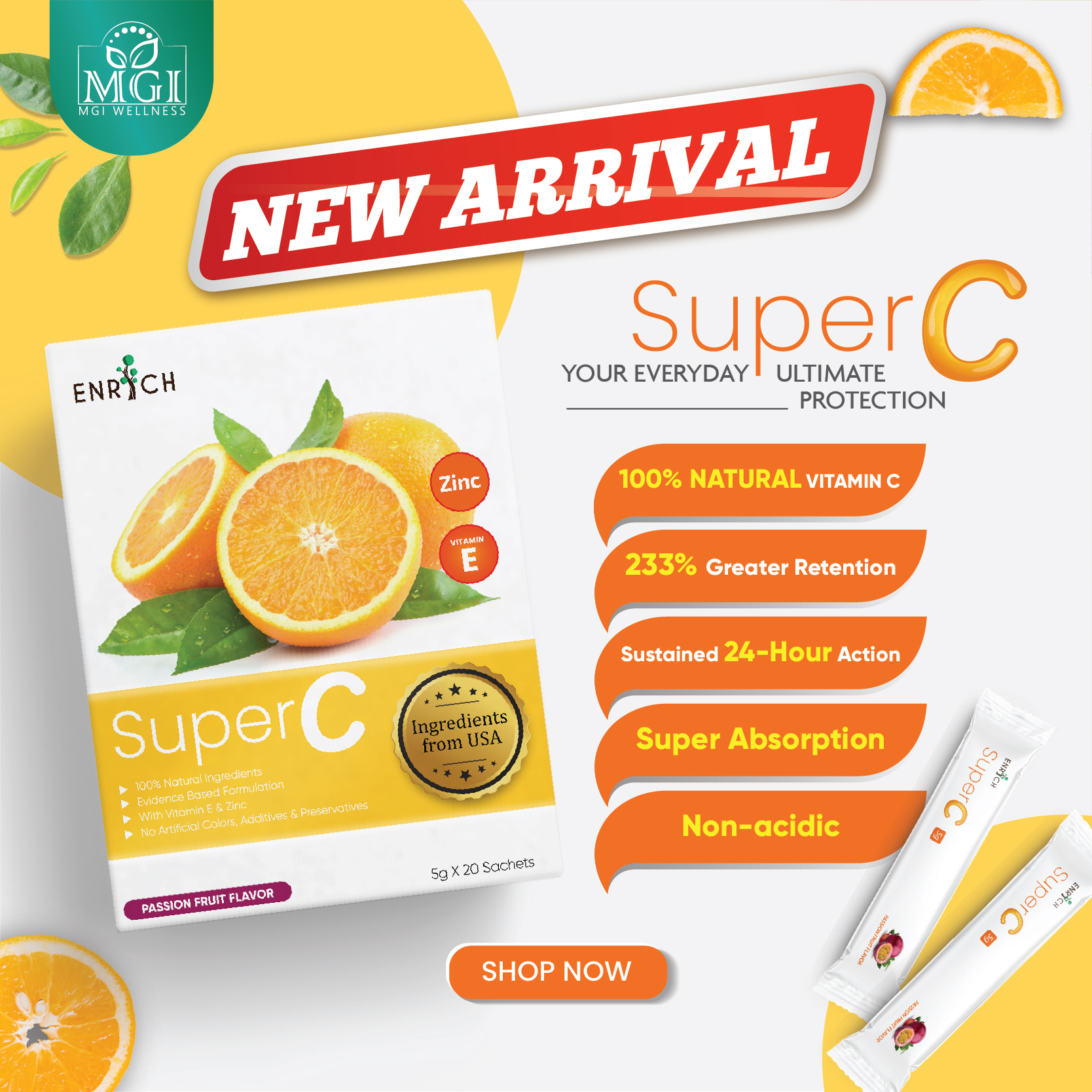 Why Super C?
Evidenced-based formulation.
Clinically proven to more sustainable, faster absorption, and higher retention rate.
Natural vitamin C from corn, comes with citrus bioflavonoids and fatty acids for maximum absorption and higher bioavailability.
Comes with zinc and vitamin E for enhanced immune protection
Non – acidic and gentle on the gut
Convenient with a once-a-day dosage
Easy to swallow, in powder form
References
Recommended Nutrient Intakes Malaysia 2017.Putrajaya: National Coordinating Committee on Food and Nutrition, Ministry of Health Malaysia; 2017.
Zhang J, Rao X, Li Y, Zhu Y, Liu F, Guo G et al. Pilot trial of high-dose vitamin C in critically ill COVID-19 patients. Annals of Intensive Care. 2021;11(1).
Sasazuki S, Sasaki S, Tsubono Y, Okubo S, Hayashi M, Tsugane S. Effect of vitamin C on common cold: randomized controlled trial. European Journal of Clinical Nutrition. 2005;60(1):9-17.
Carr A, Maggini S. Vitamin C and Immune Function. Nutrients. 2017;9(11):1211.
Hemilä H, Chalker E. Vitamin C for preventing and treating the common cold. Cochrane Database of Systematic Reviews. 2013;2013(5).
Carr A, Rowe S. Factors Affecting Vitamin C Status and Prevalence of Deficiency: A Global Health Perspective. Nutrients. 2020;12(7):1963.
Marik P, Liggett A. Adding an orange to the banana bag: vitamin C deficiency is common in alcohol use disorders. Critical Care. 2019;23(1).
Deicher R, Hörl W. Vitamin C in Chronic Kidney Disease and Hemodialysis Patients. Kidney and Blood Pressure Research. 2003;26(2):100-106.
Carr A, Spencer E, Dixon L, Chambers S. Patients with Community Acquired Pneumonia Exhibit Depleted Vitamin C Status and Elevated Oxidative Stress. Nutrients. 2020;12(5):1318.