The liver is truly an amazing organ in that it has a unique capacity to regenerate itself after damage. This means that after the liver is physically damaged (for example, a wound), chemically damaged (by drugs or alcohol), or after an injury or surgery to remove damaged tissue, the liver can regrow back to its normal size even after up to 90% of it has been removed. (1) Normal liver weight is reestablished within 8-15 days. (2)
But many diseases and exposures can harm the liver beyond the point of repair. These include cancer, hepatitis, cirrhosis, liver failure, and certain medication overdose. So, when the liver is injured beyond its ability to regenerate itself, a liver transplant is the treatment of choice. However, the number of people waiting for a liver transplant greatly exceeds the number of available deceased-donor livers.
Phases for the Process of Liver Regeneration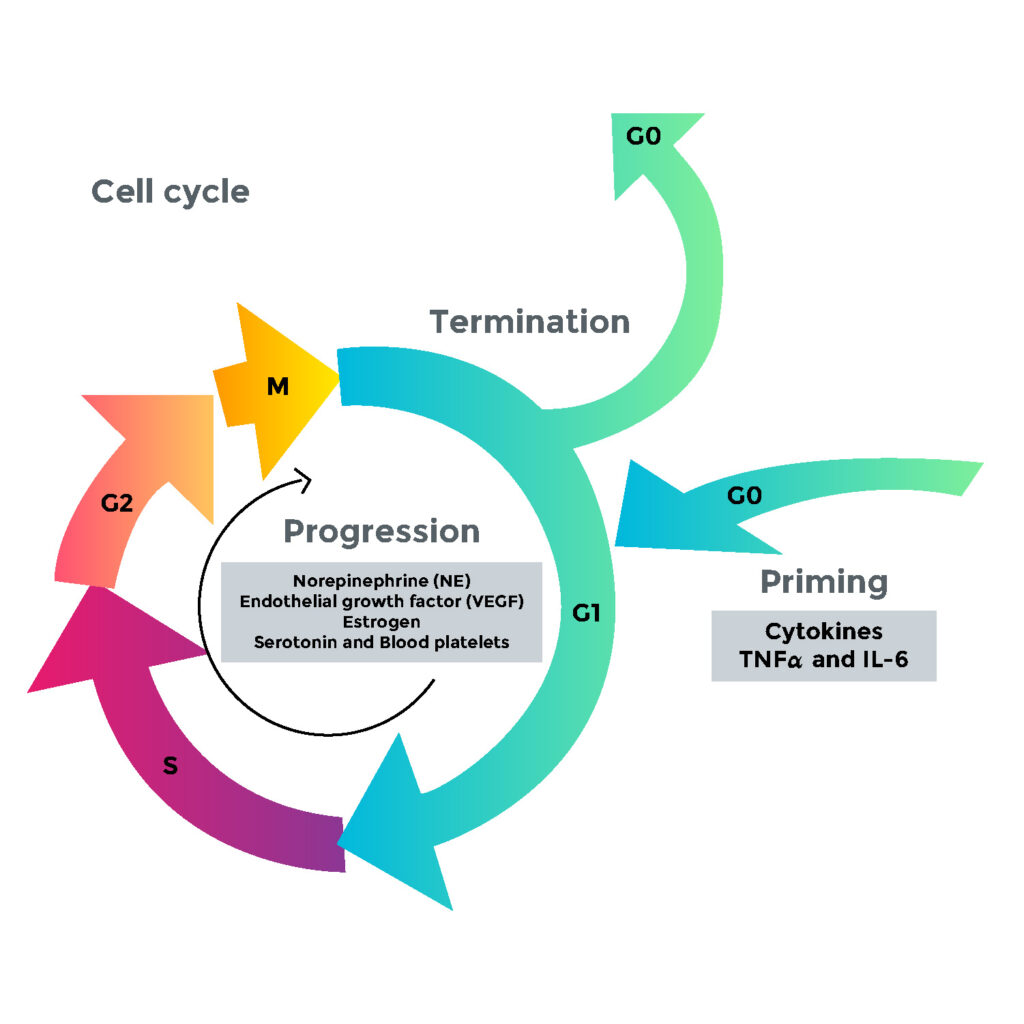 There are three phases in the process of liver regeneration. (3) The first phase is the priming phase. This is the phase where the minutes after the liver detects damage, genes of the liver cells will send signals to prepare the cells for division. During this phase, regeneration primarily is triggered by cytokines (tumor necrosis factor-α (TNF-α) and interleukin-6 (IL-6)), and growth factors released from inflammatory cells. If either one of the cytokines were lost, it could delay the liver regeneration process.
The second phase is the proliferation phase or also called the progression phase. At this phase, the liver cells continue to divide until the liver recovers to its original size. Along with it, DNA synthesis and liver enlargement also happen. Some hormones that may delay liver regeneration in their absence during this phase are including norepinephrine (NE), endothelial growth factor (VEGF), estrogen, and also serotonin. Besides, blood platelets which have a wider role in health and disease may also have a positive factor throughout this phase.
In a study shows that patients suffering from
70% partial hepatectomy
 (surgery to remove cancerous tumors from the liver) or two-thirds of the liver is removed would
improve the regenerative capacity of the liver
 if
provided with plasma rich in platelets
.
The final phase deals with the termination of liver regeneration. This is the phase where the liver stops dividing itself especially when the normal liver mass/ body mass ratio of 2.5% has been restored. This phase happens by encoding the production of associated proteins to inhibit liver regeneration and induce cell apoptosis. Thus, in the end, liver regeneration would be terminated.
In conclusion, the liver has many functions in the body as well as an amazing capacity to regenerate itself. However, many medical conditions can affect a person's liver function. This is especially true if a person is a heavy drinker, as excess alcohol can place too great a strain on the liver's functioning and lead to some conditions where the liver can no more regenerate itself. Maintaining a healthy weight and practicing balanced eating and exercise habits can help maintain liver health.
References
Reynolds S. Cells that maintain and repair the liver identified. National Institute of Health. 2021.
Michalopoulos G. K. Liver Regeneration. J Cell Physiol. 2007 Nov; 213(2): 286-300.
Tao Y., Wang M., Chen E., and Tang H. Liver Regeneration: Analysis of the Main Relevant Signaling Molecules. Mediators of Inflammation, vol. 2017, Article ID 4256352, 9 pages, 2017.