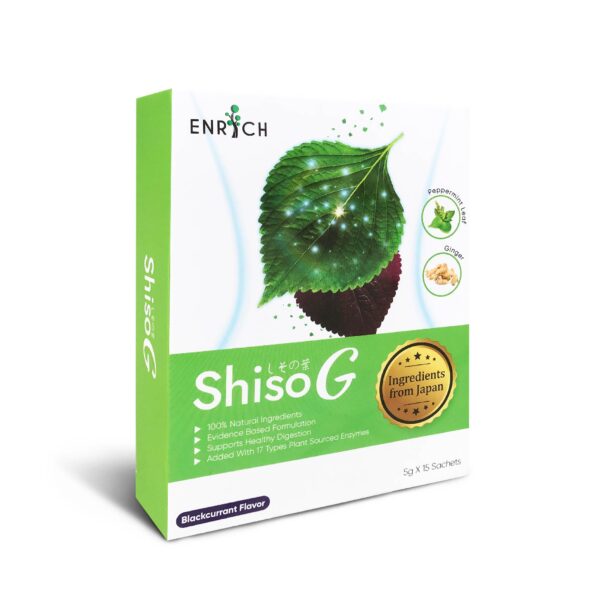 ShisoG (15'S x 5G)
ShisoG is a digestive booster formulated to relieve indigestion, bloating, gas and optimize nutrient absorption. It contains the natural herb Perilla Leaf extract and 17 types of digestion plant-sourced enzymes. This wide spectrum of enzymes help to break down proteins, fats, fiber, and complex carbohydrates effectively. Other ingredients like peppermint and ginger soothe stomach upset.
–
☝To Provide a Quick Relief From
✅Indigestion
✅Bloating / Excessive Gas
✅Fullness Discomfort After A Heavy Meal
✅Abdominal Cramp / Gastric Pain
☝Long Term Consumption Helps To
✅Improve Irritable Bowel Syndrome Symptoms
✅Improve Digestion & Nutrient Absorption
REF.

N/A
Category: Health Food
Tags: bloated, Cramp, digestive, Fullness Discomfort, gastric, gastrointestinal, gastrointestinal relieve, Ginger, gut, gut health, Indigestion, intestinal, Irritable Bowel, Nutrient Absorption, Peppermint Leaf, Perilla Leaf Extracts, Plant Source Digestive Enzymes, ShisoG
FAQ
What is ShisoG? How can ShisoG benefit my gut health?
The Guardian of Your Gut!
ShisoG is a digestive booster formulated to relieve indigestion, bloating, gas and optimize nutrient absorption. Contains natural herb Perilla Leaf extract and 17 types of digestion plant sourced enzymes, this wide spectrum enzymes help to break down proteins, fats, fiber, and complex carbohydrates effectively.
What are the ingredients in ShisoG?
• Perilla Leaves
• DigeSeB PRO ( α-galactosidase, Proteases II, Lactase, Pectinase, Cellulase, Xylanase, Invertase, Lipase, Papain, PU Catalase, Proteases, Hemicellulase, Glucanases, Bromelain, Amylase, Phytase, Diastase)
• Ginger
• Peppermint Leaves
• Other: Stevia
Perilla leaf extract reduces cramps and pain by antispasm effects on smooth muscle cells and via the brain-gut cross talk. Two important Flavonoids compounds in Perilla Leaf , Vicenin-2 & Rosmarinic Acid help to improve disordered gut motility by producing relaxation in the muscles of the intestinal wall. This effect is achieved by inhibiting excessive excitatory nerve and muscle activity in the intestine. Moreover, Perilla has a "prokinetic" effect, meaning that it promotes normal motility to allow intestinal contents to move along smoothly without cramping or bloating. Perilla extact also balances the immune mediator Th1 and Th2 to reduce chronic inflammation such as Irritable Bowel Syndrome(IBS). Bedises, 17 types plant source digestive enzymes has been added to break down foods that contain difficult-to-digest proteins, fats and carbohydrates to enhance nutrients absorption. Other ingredients like Ginger and Peppermint food through the gastrointestinal tract, and reduces wind, bloating and cramps.
Do you feel bloated often, too much gas, alternating diarrhea / constipation, indigestion, abdominal cramp / pain?Get stress and sick of all these symptoms that badly affect your daily life and even lead to poor nutrient absorption? Shiso Gut is here to heal your gut with both quick relief and long term benefits from digestive problems.
What are the health benefits from ShisoG?
To Provide a Quick Relief From
→ Indigestion
→ Bloating / Excessive Gas
→ Fullness Discomfort After A Heavy Meal
→ Abdominal Cramp / Gastric Pain
Long Term Consumption Helps To
→ Improve Irritable Bowel Syndrome Symptoms
→ Improve Digestion & Nutrient Absorption
Those with gut issues such as:
• Excessive gas and bloating
• Occasionally abdominal discomfort and feeling of fullness
• Gastric pain and indigestion
• Symptoms of Irritable Bowel Syndrome
1 sachet mix with 100ml water.
Suggest to take 1 sachets daily with/without food or drink as symptoms occur.
 For individuals with long-term symptoms, suggest to take ShisoG daily for at least 2 to 3 months for best results.
No side effects are reported.
Do not consume if you are allergy to any ingredients stated.
Does ShisoG contains any preservative, additives, artificial flavoring or coloring agents?
No, all ingredients used in Shiso Gut are 100% natural.
Can I replace my prescribed gastric medication with ShisoG?
No, this product should not be used in place of medication prescribed for you by your doctor.
Is it recommended to take ShisoG daily if I have gut health issues?
Yes. It is recommended to take Shiso G daily if you have gut issues like excessive gas and bloating, abdominal discomfort, feeling of fullness, gastric pain, indigestion, and symptoms of Irritable Bowel Syndrome(IBS).
Do I drink it at morning or at night?
ShisoG can be taken at any time of the day. Best to take when symptoms occur.
How long does it take to see the results?
Studies have shown that perilla leaf is able to relieve GI symptoms such as bloating within 1 to 4 weeks depending on the symptoms and condition.
How much should I take per day?
1. 1 sachet mix with 100ml water.
2. Suggest to take 1 sachet daily with / without food or drinks.
3. For individuals with recurrent symptoms, suggest to take ShisoG daily for at least 1 to 4 weeks.
Other Product You be Interested
Rated 4.50 out of 5
RM

85.00 –

RM

500.00