Stress has become a norm nowadays regardless of the source of stress. Stress not only affects productivity; it also affects your physical and mental health in the long run. Statistics show that 29% Malaysians aged 16 and above have mental health problems due to stress. (1) According to National Health and Morbidity Survey 2019, 1.7 million Malaysians has three major chronic diseases, which are diabetes, high blood pressure, and high cholesterol levels, and 3.4 million Malaysians has a least two chronic diseases. (2) One of the risk factors of these chronic diseases is stress, besides unhealthy dietary patterns and sedentary lifestyle. (3)
Stress kills productivity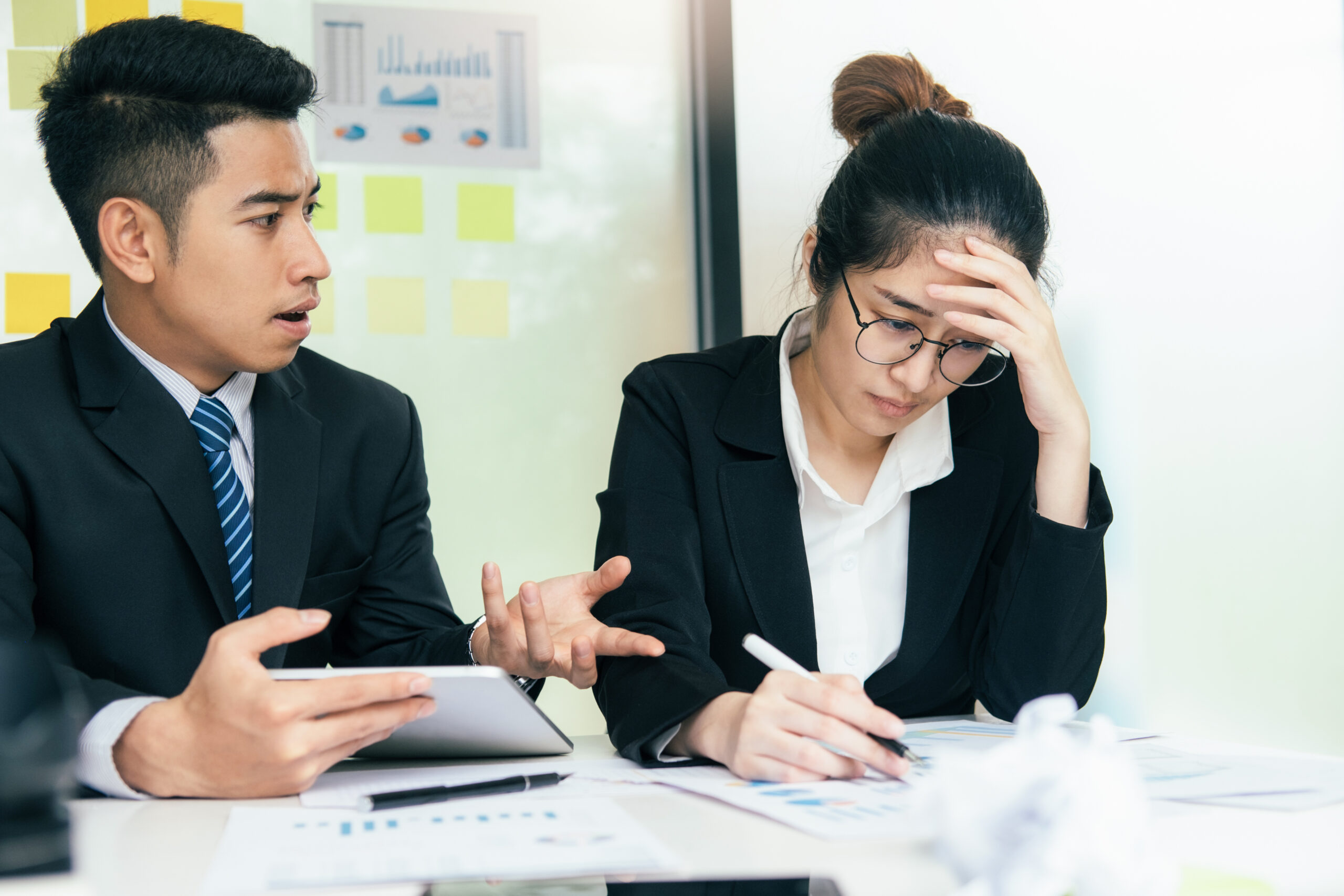 Stress causes lack of focus and a higher risk of making mistakes. This causes work to slow down and thus, affecting productivity and the business in the long run. Those studying may miss assignment / project deadlines and this affects progression in their study not to mention their performance during exams. Besides that, stress also cause more conflicts between people and this affects productivity especially when teamwork is essential to get a project going. (4)
Stress affects your health
 
Constant and long-term stress increases levels of stress hormones, and thus, causing numerous effects such as elevated blood pressure and increased inflammation in the body. In the long run, this increases the risk of chronic diseases such as diabetes, high blood pressure, high cholesterol levels, and heart diseases. (5,6) Besides that, stress also contributes to poor immunity, fatigue, digestive issues like diarrhoea and gastric pain, sleeping problems, and headaches due to muscle tension. (5,6)
Ways to manage stress
Identify what causes your stress
Identifying the source of your stress is important to make changes and reduce stress in your life. If possible, avoid what causes your stress.  For example, if the stress is caused by a particular person, avoid them if possible. If it's not possible to avoid, communicate with the person who is hurting or causing you stress. (6)
Take charge on your emotions and thoughts
Learn how to change your mindset whenever a negative thought comes in. By changing a negative thought to a positive one, you can easily reduce and manage stress. (6)
Eat healthily
A poor diet especially a diet high in processed food such as junk food can affect our mood and affect mental health. (7) Therefore, it is important to eat a healthy and balanced diet. Vary your food choices in your meals and eat plenty of fruits and vegetables for better mental health. (8)
Exercise!
Exercising at least 30 minutes daily helps to improve our health including mental health. Regular exercise can make you healthier, improve mood states, and provide better mental health. (9)
Leave work at the office
Constantly thinking about work even after office hours not only takes a toll on your physical health; it can affect your mental health as well. Taking a break from work allows your mind to rest and prepare for work on the following day. (10)
Take time off to rest
Take time off to rest when you are feeling overwhelmed or burned out. As the saying goes "Taking a break is a preparatory step for a longer journey ahead"
References
Institute for Public Health 2015.  Non-communicable disease, risk factors & other health problems; National Health and Morbidity Survey 2015. [internet] [cited 2021 Oct 29] Available from: moh.gov.my/moh/resources/nhmsreport2015vol2.pdf
Institute for Public Health.  Non-communicable diseases, healthcare demand, and health literacy; National Health and Morbidity Survey 2019 [internet]. 2020 May 30 [cited 2021 Oct 29] Available from: http://iku.moh.gov.my/index.php/nhms/nhms-2019
Mansor M, Harun N. Health Issues and Awareness, and the Significant of Green Space for Health Promotion in Malaysia. Procedia – Social and Behavioral Sciences. 2014;153:209-220.
5 Ways Stress Kills Productivity | New Zealand, AUS [Internet]. AACT-NOW. 2020 [cited 31 October 2021]. Available from: https://www.aact-now.org/5-ways-stress-kills-productivity/Stress effects on the body [Internet]. American Psychological Association. 2018 [cited 29 October 2021]. Available from: https://www.apa.org/topics/stress/body
E Johnson. Stress: A Serious Health Concern. Family Med.& Medical Science Research. 2014;03(04).
Lopes Cortes M, Andrade Louzado J, Galvão Oliveira M, Moraes Bezerra V, Mistro S, Souto Medeiros D et al. Unhealthy Food and Psychological Stress: The Association between Ultra-Processed Food Consumption and Perceived Stress in Working-Class Young Adults. International Journal of Environmental Research and Public Health. 2021;18(8):3863.
Cornah D, Van de Weyer C, Longfield J, Richardson C, Ryrie I. Feeding minds. London: Mental Health Foundation; 2006.
Penedo F. J. & Dahn J. R. (2005). Exercise and well-being: a review of mental and physical health benefits associated with physical activity. Current Opinion in Psychiatry; 18(2): 189–193
Work Stress: The Silent Killer & How to Combat it [Internet]. Florence.co.uk. 2021 [cited 31 October 2021]. Available from: https://www.florence.co.uk/posts/work-stress-the-silent-killer-how-to-combat-it
Why EziMag?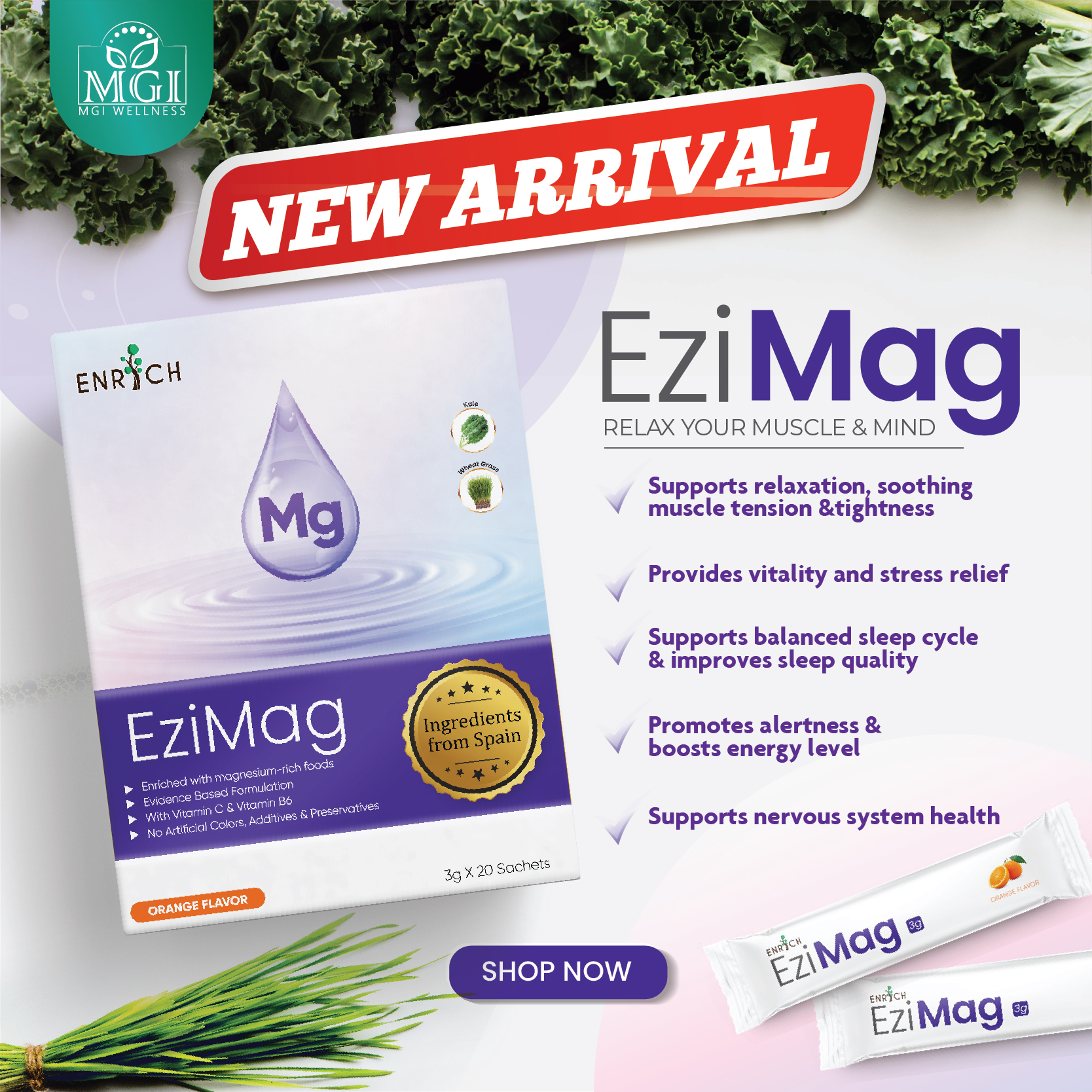 Evidence-based formulation.
Clinically proven to increase solubility for better absorption, increase the bioavailability, and improve stability of magnesium.
Enriched with whole food sources of magnesium such as kale and wheatgrass that are wholesome and nutritious.
Comes with vitamin C and vitamin B6.
Gentle to the stomach.
Easy to swallow, in powder form.