What is Iron and what does it do?
Iron is an important mineral for the functioning and synthesis of haemoglobin, a type of protein in red blood cells that transports oxygen throughout the body. Iron is also involved in DNA synthesis, immune functioning, brain development and the synthesis of collagen. (1) Because of its important role in oxygen transport, a lack of iron can cause iron deficiency anaemia (IDA), which leads to extreme fatigue and one will get sick more easily.
.
According to the National Health and Morbidity Survey (NHMS) 2019 study (2), the overall prevalence of anaemia in Malaysia was 21.3% of the population, which means 1 in 5 Malaysians were anaemic. The prevalence of anaemia was higher among females at 30.4% as compared to males at 12.6%, with the highest prevalence among Indian women at 39.8%. Among women of the reproductive age group (15 to 49 years old), the prevalence of anaemia was 29.9%, which means that 3 in 10 women were anaemic.
.
The recommended intake of iron for girls/ women is more than boys/ men and other age groups. Girls aged 10 (menstruating) to 18 years old need 21 to 22 mg/day of iron while women aged 19 to 50 years old need around 20 mg/day. During this age, women are usually having menstruation, pregnant or breastfeeding. After menopause, normally for women aged 51 and above, the iron needs drop to 8 mg/day which is almost the same amount as men and boys. (3) This is because at this age, the women menstrual cycle has already ended.
Why Iron is important for women?
Menstruation
Menstruation is the most common cause of iron loss not only in Malaysia but worldwide. On average women lose around 220 to 250 mg of iron during each menstrual cycle. Menstruating women in particular deplete these low stores of iron quickly because of blood loss from the monthly cycle. (4) For instance, women who experience heavy bleeding during menstruation (lasting longer than 7 days or soaking through pads once every hour), therefore are at a higher risk for having low iron levels and can develop IDA.
Pregnancy
Pregnancy also impacts the total iron content in a woman's body. Women need iron to support the growing foetus, increased blood volume and blood loss during delivery later. (5) The blood volume increases when pregnant, so the iron requirements also rise especially in the second and third trimester as the body uses iron to make haemoglobin to transport oxygen to other cells and support the baby's own blood supply.
Since pregnant women are at risk of developing IDA, it is best to enter a pregnancy state with good iron stores. Iron deficiency in pregnant women will increase the risk of having a pre-term or low birth weight baby, which may have a negative impact on the short term and long-term health of the baby. (6) It is recommended that all pregnant women were given tablet form of iron supplements because of the difficulties in correctly evaluating iron status in pregnancy. (3)
Breastfeeding/ Lactation
The iron intake in lactating women needs special consideration even though the total iron requirements are low during the lactation period. They need around 10 mg/day in the first few months after delivery. (7) This is because they no longer need to maintain extra blood volume and also are not having a menstrual period yet. When the lactating women start to have their menstruation, the iron needs increase back to 21 mg/day as before lactating. (3)
Besides that, most healthy babies are born with iron stores that will last about 6 months and breast milk is the only food that babies get until 6 months of age. After 6 months, the baby needs more iron thus continuing breastfeeding the baby up to 2 years ensure the baby gets enough iron supply from the mother at the same time providing them with formula and a variety of iron-rich foods. (8)
How to get enough iron from your diet?
Iron is best absorbed from the diet that is also rich in vitamin C, (9) so try out some of the meals below to boost your iron intake:
Scrambled egg with mushroom, grilled tomato and fruit juice.
Fortified breakfast cereal, berries and fruit juice.
Sardines with wholegrain toast and green salad.
Omelette with chopped peppers and mushrooms.
Spaghetti bolognaises with grilled tomato and garlic ciabatta.
Spiced beef strip stir-fry with noodles, baby corn and pea.
References
Abbaspour N., Hurell R. & Kelishadi R. Review on iron and its importance for human health. J Res Med Sci. 2014 Feb; 19(2): 164-174.
National Health and Morbidity Survey (NHMS) 2019: Non-Communicable Diseases, Healthcare Demand and Health Literacy. Institute for Public Health (IPH), National Institutes of Health (NIH), Ministry of Health (MOH) Malaysia, 2020.
Recommended Nutrient Intake (RNI) for Malaysia 2017. Putrajaya: National Coordinating Committee on Food and Nutrition (NCCFN), Ministry of Health (MOH) Malaysia, 2017.
Patterson A. J., Brown W. J. & Seldon M. Dietary treatment of iron deficiency in women of childbearing age. Am J Clin Nutr. 2001; 74: 650-6.
Fisher A. L. & Nemeth E. Iron homeostasis during pregnancy. Am J Clin Nutr. 2017 Dec; 106(6): 1567S-1574S.
Alwan N. A. & Hamamy H. Maternal Iron Status in Pregnancy and Long-Term Health Outcomes in the Offspring. J Pediatr Genet. 2015 Jun; 4(2): 111-123.
Hallberg L. Iron Balance in Pregnancy and Lactation. Nutritional Anemias. 1992; 30.
Griffin I. J. & Abrams S. A. Iron and breastfeeding. Pediatr Clin North Am. 2001 Apr; 48(2): 401-13.
Lynch S. R. & Cook J. D. Interaction of vitamin C and iron. Ann N Y Acad Sci. 1980; 335: 32-44.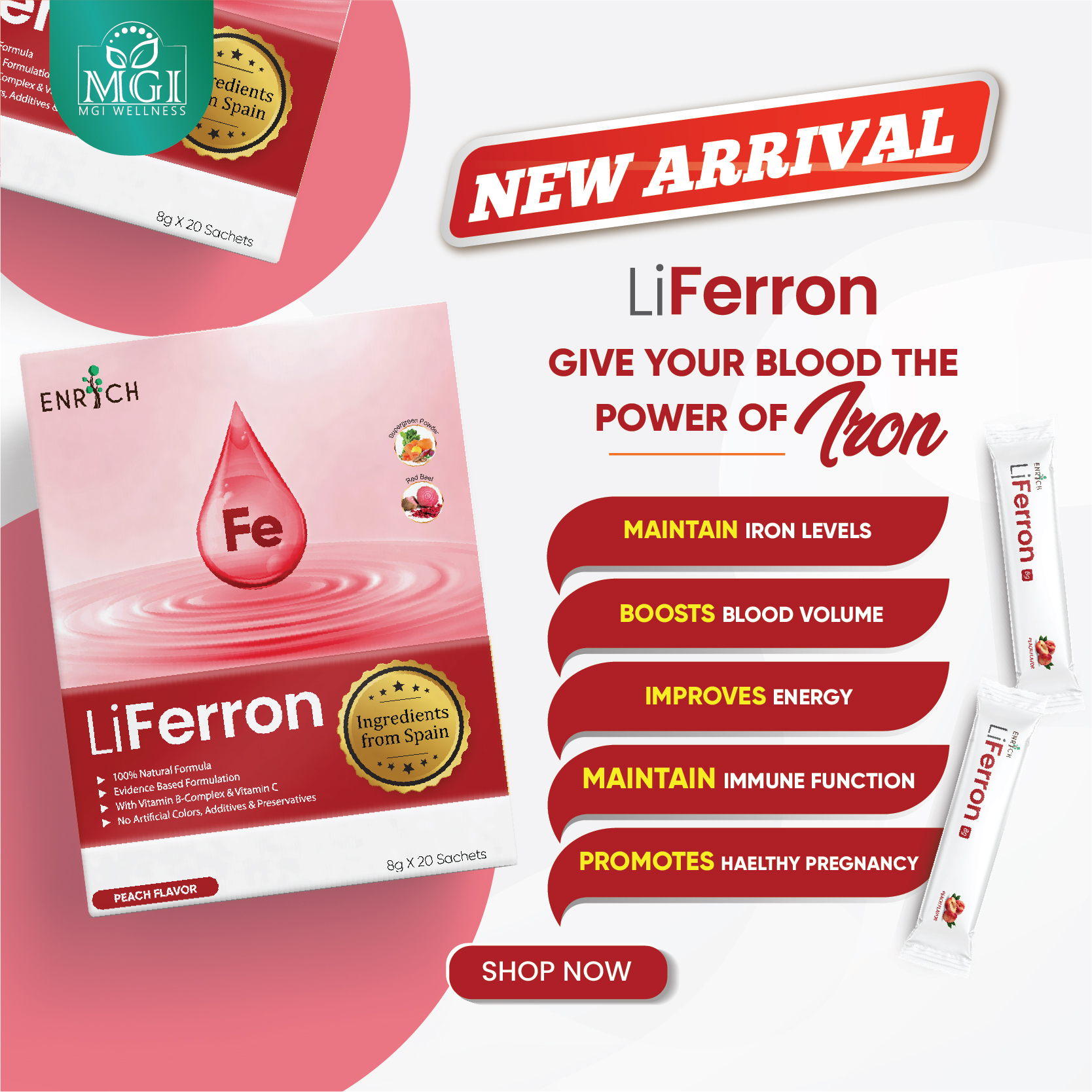 Why LiFerron?
Evidence based formulation.
Clinically proven to have higher bioavailability and higher absorption.
Enriched with iron-rich natural whole food blend such as red beets, spinach, pumpkin, carrot, purple yam, and burdock
Comes with vitamin C and vitamin B-complex.
Gentle to the gut
Convenient with once-a-day dosage.
Easy to swallow, in powder form.